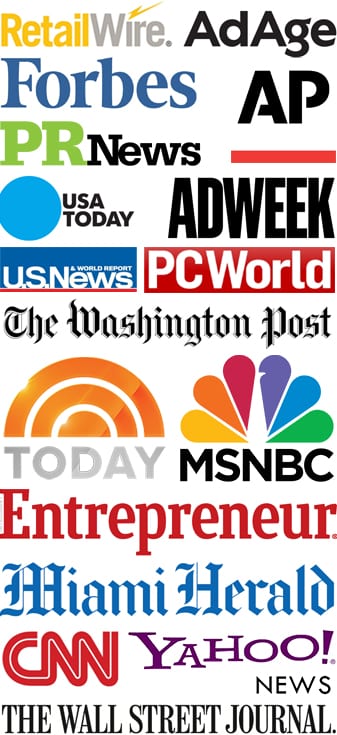 Footwear News: How to Make the Most of Partnerships with Mom Influencers
Orthodontic Practice: Millennial Moms: Why they should be an important audience for your marketing strategy
American Express: Generation Z: Who Are They and How Can You Attract Them To Your Business?
American Express: 5 Tips For Successfully Employing Generation Z
Mother & Baby Magazine: Boomer Kuşağı'ndan Z Kuşağı'na DEĞİŞEN AN NELİK
Advertising Week: 11 Brand Mascots Advertising Pros Would Road Trip With
Project Nosh: Mother Knows Best: How Moms Shape the Market
Chief Marketer: Marketers' Most Wanted Moms
Your Commerce: Mum's The Word: When marketing to mothers, keep these 5 core values in mind
BUMP: Editor's Picks: Mom-to-Be Faves
PA Homepage: Mom Gift Ideas
WKRN News: Experts Share Tips on Moving Into College Dorms
New York Times: Childless Women to Marketers: We Buy Things Too
Billboard: Adele's Army: How the Singer's Female Fans Catapulted Her to Sell More Than 4 Million Albums
eMarketer: Way Beyond Blogging: US Mothers' Likes and Dislikes on Social Media
Reuters: Disney's powerful marketing source: social media moms
eMarketer: When It Comes to Marketing, Digital Mom Shoppers Have Boundaries
Sun Sentinal: Mom Talk Radio host offers three exercises for people on the go
Today:Moms, who stresses you out the most? Look in the mirror, survey finds
Engage: Will Facebook Decide Election? Moms Vote Yes
Fast Company: Mothers Of Invention: How Moms Help Huggies Innovate
Panorama: Il mio blog non fa la nanna
Forbes: Is Blogging Really a Way For Women to Earn a Living?
PR Newswire: Entrepreneurial Moms Make Business Dreams a Reality
Oregon Business: The Rise of the Mommy Economy
Associated Press: Why are toys selling out? Might be mommy blog buzz
Forbes: Mother's Day: Mompreneurs Shine & Big Business Takes Note
UPI.com: Teen Clothing Brands Set Sights Lower
PR Web: The Recession Will Be Over When Moms Say It's Over
Playthings: Zhu Zhu Pets maker, Cepia Takes Twitter Parties Across the Pond
Orlando Sentinel: Prepackaged Kids' Lunches Get Healthier
Franchise Times: Maria Bailey Delivers Moms – Mom 3.0 Guru Is Hailed as Franchising's Link to This Trillion-dollar Market
Forbes: A Phone for Kids and Moms
Forbes: Answers Moms Need to Know
Wall Street Journal: Is a Crackdown Looming for Parenting Blogs?
Nielsen: Maria Bailey Named One of the Most Influential Online Moms
5 Minutes for Mom: Maria Bailey Thinks Moms Are Ahead of the Internet…
Forbes: How to Market to the Modern Mom
Washington Post: The Kid Tamer
DMNEW.com: Blogging Moms Are a Growing Influence
US News & World Report: How Palin Is, and Isn't, Like Other Working Moms
Marketing Sherpa: Marketing to Moms, Part I: Use Blogs, Events to Conquer the Mommy Market
BizCommunity: South African Marketers Not Speaking to Moms
Entrepreneur Magazine: The Alpha Advantage
Star Tribune: 'Hannah' Comes to Theaters
Negocious: Dê uma trégua
Advertising Age: Mommy Blogs: A Marketer's Dream
Seattle Post-Intelligence: Mommies Plead: 'Dad Help Out!'
Entrepreneur.com: Marketing to Moms: Keep Mom's Busy Schedule in Mind
Entrepreneur Magazine: Looking to hire? Hire stay-at-home moms
USA Today: Suave's message to moms connects
Entrepreneur Magazine: Don't Kid: Would you consider banning little ones from your location?
Deseret News: Mom Talk Airs on Utah's First Radio Station for Women
USA Today: Parents Wheel Babies Around in $$!! Status Symbols
Kids Today: Bailey Offers Real Suggestions to Attendees
Entrepreneur Magazine: 8 Perpetually Hot Businesses
Clickz: Tapping the Mom Market
USA Today: You Too Can Get a Flexible Schedule