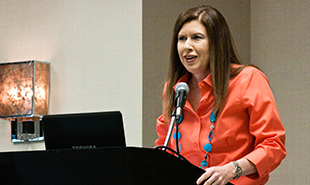 Known as the "Marketing to Moms Expert", Maria Bailey is an invited speaker at the most respected events and conferences. Top industries and conferences that have enjoyed Maria Bailey as Keynote Speaker, include:
Johnson & Johnson Global Meeting
Primrose Schools National Convention
L'Oreal Think Tank
Global Organization of EPA and DHH
Kid, Youth & Parent Summit
Canada Parents Conference
South Africa Marketing to Moms
Turkey Marketing to Moms Summit
Consumer Electronics Show – Mommy Sandbox
Digital Kids
Disney Global Marketing
Orthosynthetics
National Association of Convenience Store Owners
Empower your audience with knowledge with the latest insights on moms as consumers, innovators, or collaborators!
Preparing Your Brand for Gen Z Moms
Marketing to Millennial Moms
Unlocking the spending power of the Chief Household Manager
Millennial Moms: Capturing the Spending of Today's Moms
Connecting to Moms through Social Media
Marketing strategies that connect with moms
Engaging the Gen Z Family to Drive Sales to Your Bottom-line
Defining Mom Influencers and Leveraging Their Influence to Sell Product
Understanding the Female Consumer
Women's Business Issues
Uncovering the power of Micro-Influencers: Driving sales and building brands through influencer engagement
The Influencer Family: How to engage Mom Bloggers and their socially active children to build your brand
Upcoming Speaking Engagements:
For booking or more information about 1/2 day workshops and strategy sessions for your company, email Laura@BSMMedia.com.
"It was so easy to work with you. Producers love you, which made our jobs a lot easier. Thank you!"
"Your insights together with your existing audience brought added value to our client's campaign."
"We've never worked with someone who works so hard. You were the perfect mom to represent our product line."
"Good insight. Brilliant, very informative! Fabulous! Thoroughly enjoyed! Engaging! Very interesting, too little time. Really enjoyed her presentation. Excellent talk! Very interesting. Very professional. Really enjoyed presentation."
"You bring a level of creativity and know-how that maximized the experience of our internal team."